The Bill Davies Cup for Outstanding Sportsmanship
In 2014, SUB Football introduced a special award in honour of Bill Davies and the legacy he created with SUB Football. The Cup recognises the positive team spirit and sportsmanship displayed most consistently by a team each season.
How teams qualify
Teams qualify for nomination for the award in the following ways:
Sportsmanship points are awarded by referees at each game. Teams with the highest averages over the season are eligible.
Feedback from venue managers
Feedback from other teams
2020/21 winners - Couchlords
Congratulations to Couchlords for their outstanding sportsmanship while playing in Division 3 on Thursday nights. Some of the players in the Couchlords team have been playing since SUB Football first began in the Auckland Domain more than 20 years ago! Enjoy your prize Couchlords - thanks to 46&York and Sal's Pizza.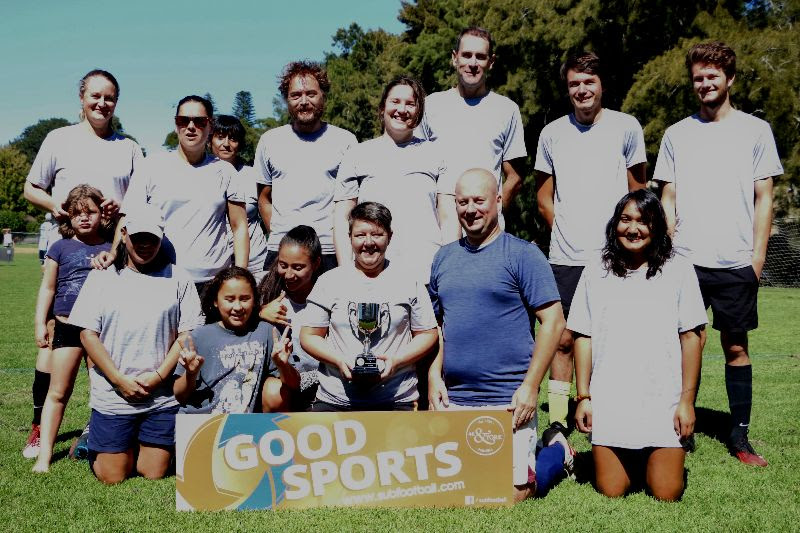 2019/20 winners - Team Dave
Congratulations to Team Dave for their outstanding sportsmanship. The team played merrily in division four on Wednesday nights at the Auckland Domain. We received positive comments on a regular basis throughout the season from their opposition. As recipients of the Outstanding Sportsmanship award they were also given a wildcard entry to the SUB Football Inter-Competition Playoffs Tournament, where they ended up becoming Overall Mixed Division 3 Champions. Rock on Team Dave!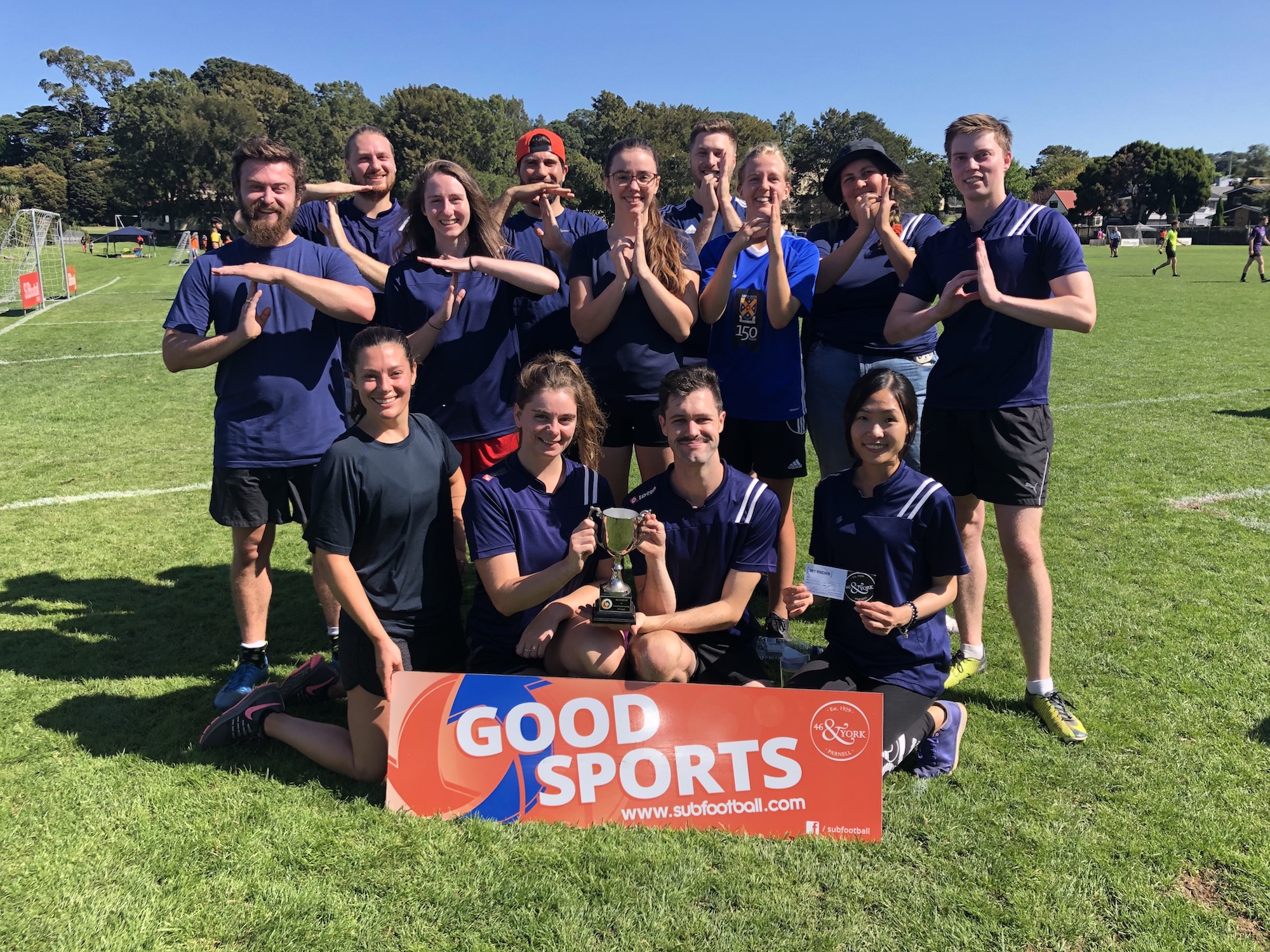 2018/19 winners - Clueless
Congratulations to Clueless, another team who has been part of SUB Football for a number of years. The team came fourth in division three on Tuesday nights at the Auckland Domain. We received complimentary feedback about team Clueless from both their opposition teams and referees throughout the season.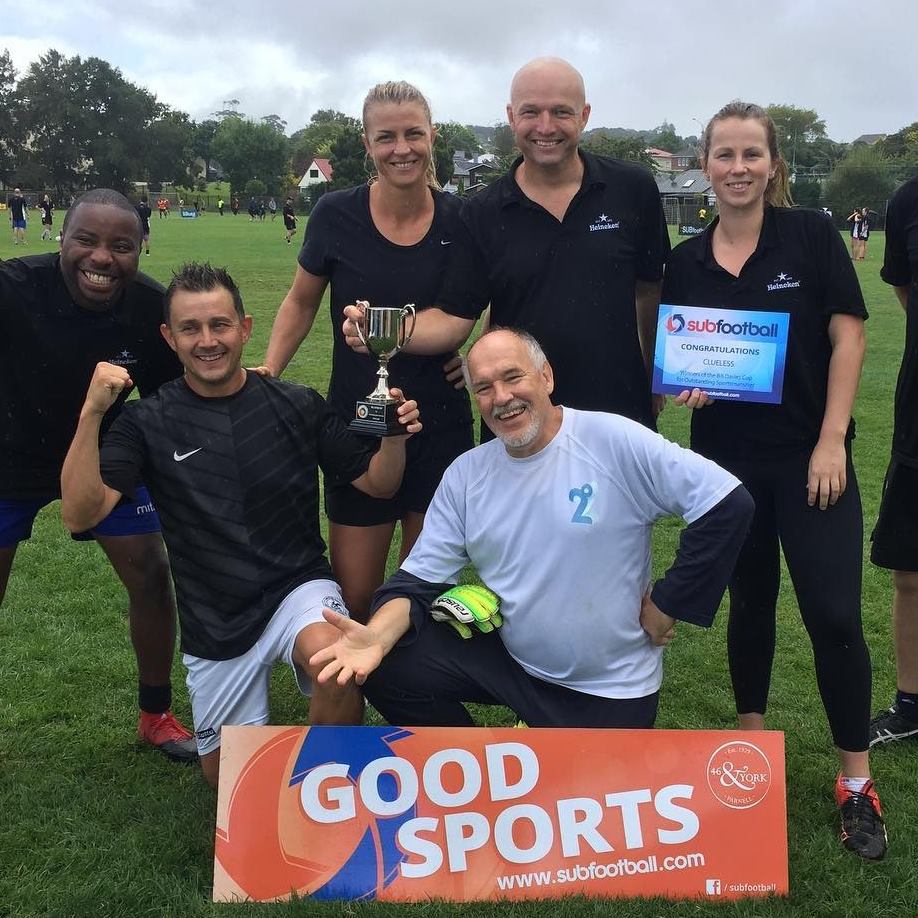 2017/18 winners - Legion of Doom
Congratulations to Legion of Doom, from division three on Monday nights at the Auckland Domain. This team has been participating in the competiton for at least 11 years, and won this summers award due to their high sportsmanship points average as well as feedback provided by other teams in regards to their exceptional attitude on the playing field. Well done! Here they are seen celebrating their award and their winning bar tab at our partner bar 46&York.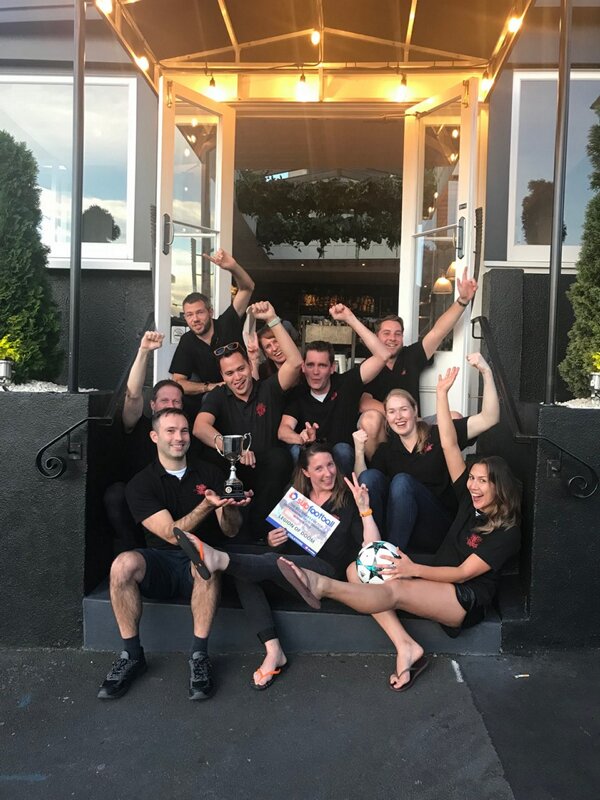 2016/17 winners - Stranger Things
Congratulations to Stranger Things, who played in Division 3 on Thursday nights at the Auckland Domain. Some of their team has been playing SUB Football for more than 12 years! The team consistently demonstrated a positive attitude toward each other, their opposition, and the referees to earn themselves this years award.
2015/16 winners - Fish Heads
Congratulations to Fish Heads, from the Ministry of Fisheries in Avondale, who play on Monday nights at the Auckland Domain. Their consistently positive team spirit won them this years award.
2014/15 winners - Vucchi Originals
Congratulations to Vucchi Originals, a mens division one team at Walker Park on Monday nights, who are the inaugural winners of this prestigious award.