SUMMER VENUES AND NIGHTS
SUB Football competitions run for 14 weeks* over summer, with a 4-week break over the Christmas and New Year holidays. Registrations are limited at each venue and team entry is on a first in-first served basis.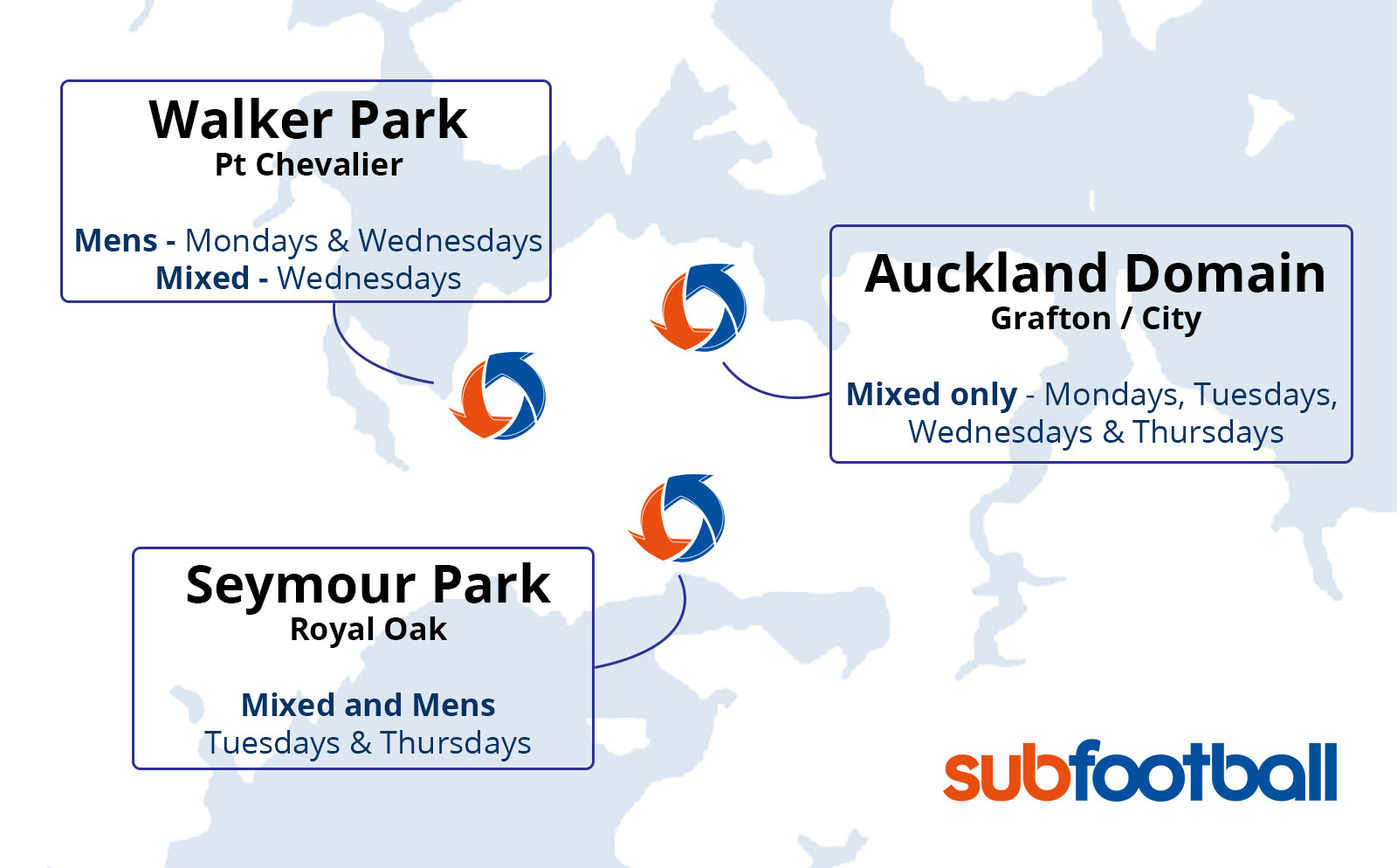 *Monday night competitions are 12 weeks only - games are not played on public holidays.
Nights and Venues
Teams select a night and venue to play once per week for the duration of the tournament. Teams wishing to play more than one night will require a second entry under a different team name. This seasons competition options are:
Auckland Domain, Grafton
Our most popular competition, close to town and Newmarket. Mixed graded competition. Up to 48 teams per night.
Monday, Tuesday, Wednesday and Thursday nights.
Seymour Park, Royal Oak
Just off the Southwestern motorway and within 10km of the city. Mens graded and Mixed open leagues. Capacity for 24 teams total.
Tuesday and Thursday nights.
Walker Park, Pt Chevalier
Just 7km west of the CBD. Mens ungraded competition and a Mens and Mixed league on Wednesday nights.
Monday and Wednesday nights.
Format and registration
Teams play once a week, starting from the Tuesday following Labour Day. The season starts with three weeks of grading games for graded competitions, followed by a round robin to find the division winners.
Registration opens for the summer league in July.
Game times
Game start times are 6pm, 6:40pm and 7:20pm sharp. Teams are allocated a mix of game times, and all teams should expect some 6pm games. We may be able to make exceptions ONLY if your team would prefer all 6pm start times - please contact us if this is the case.
Inter-competition play-offs
The season finals, or inter-competition playoffs, is an annual tournament at the completion of each league's round robin. Teams who come first and second in their division are invited to compete for the overall title in this fun end of season tournament.